With the strong support of:
ADAL
LATIN AMERICAN
Latin American Audiovisual Directors Alliance
Societies which support reciprocal agreements to the Colombian Society of Audiovisual Directors
CISAC
International Confederation of Authors and Composers Associations
IMPORTANT SUPPORT OF EUROPEAN SPANISH SPEAKING SOCIETIES

General Society of Authors and Editors. View support letter from SGAE to DASC.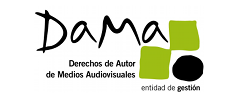 Audiovisual Authors Rights. View support letter from DAMA to DASC
---
Carrera 13 nº 79-10
Office 4th floor - Spa.
Bogotá, Colombia
Tel. +57 1 7462307 ext. 1009 - 1010
© 2014-2015 DASC / Directores Audiovisuales Sociedad Colombiana / contacto@directorescolombia.org